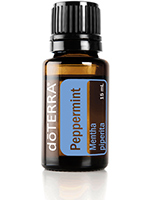 Zap Headaches!!
Cool and Invigorate.
Use with Lemon in water for a healthy, refreshing mouth rinse.

Inhale deeply to invigorate lungs and increase alertness.
Add to water in a spray bottle and mist body when overheated.
Apply to neck and forehead with Lavender to calm headaches.
Peppermint Essential Oil (Mentha piperita)
Here are some common uses:  Headaches, Bad Breath, Heartburn, Fever, Drowsiness, Stomach Ache, Helps with Bloating, Helps with Nausea, Itching, Constipation, Tendon and Joint pain, Seasonal allergies, Foot soak, Help with Stress, Air freshener, Cleaning, Insect repellant. 
Can be used aromatically.
Can be used topically.
Can be used internally.
for more information please visit
Leave a Reply